The all women team at Ranium recently finished one of its kind project - WeVow: A public promise to build a culture of safety and trust.
The client BLVR and Matt Pipkin, founder of Speak Your Silence - a non-profit organization working to help those affected by sexual abuse and assault, chose Ranium to build this platform and gave us the opportunity to become a part of their success story.
From Ranium, Rita Gaherwar headed the project development with Vijayshree Saha, Mahima Soni, Aafiya Hanafi, and Rutuja Lutade forming the core team of software and quality analysis engineers. WeVow has been built on Laravel Framework in the backend and VueJS at the frontned.
Since its launch, WeVow has been in the news all over. Recently Ranium's team of these female engineers were in the news at one of the prestigious online media portals of our region Nagpur Today. On 16th June 2019, the story was published in The Hitavada which is the largest selling broadsheet English daily newspaper of Central India.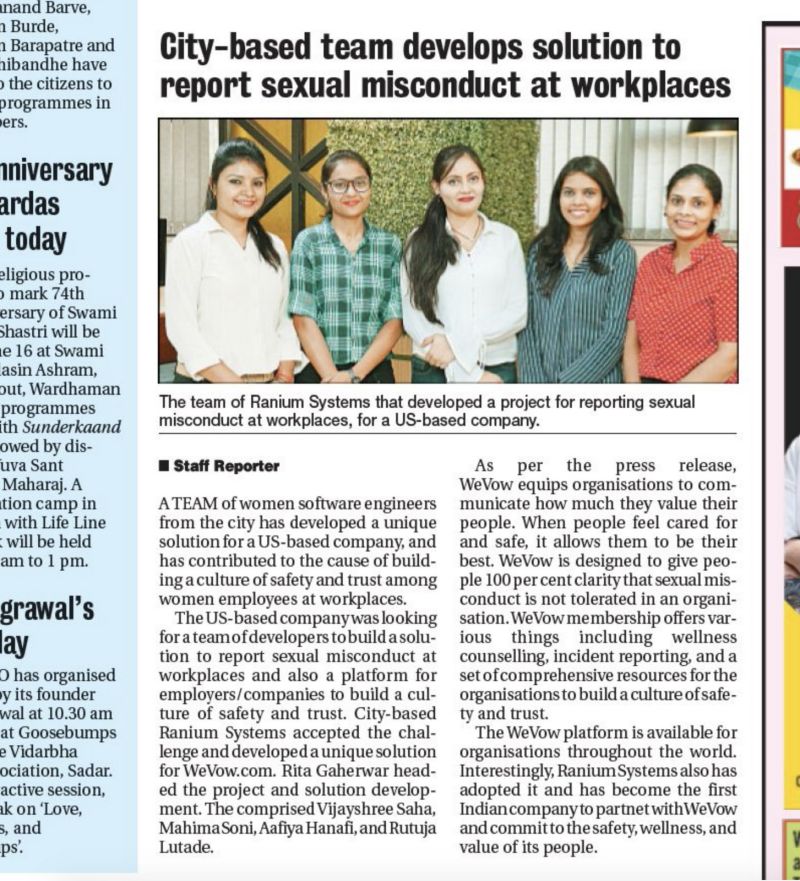 Ranium is proud to be associated with the WeVow and we have taken a Vow ourselves and are committed to the safety, wellness, and value of our people.
UPDATE: The Hitavada published another half page feature on WeVow and its team in its 30th June City Line edition.